Flexicare Glucosamine and Chondroitin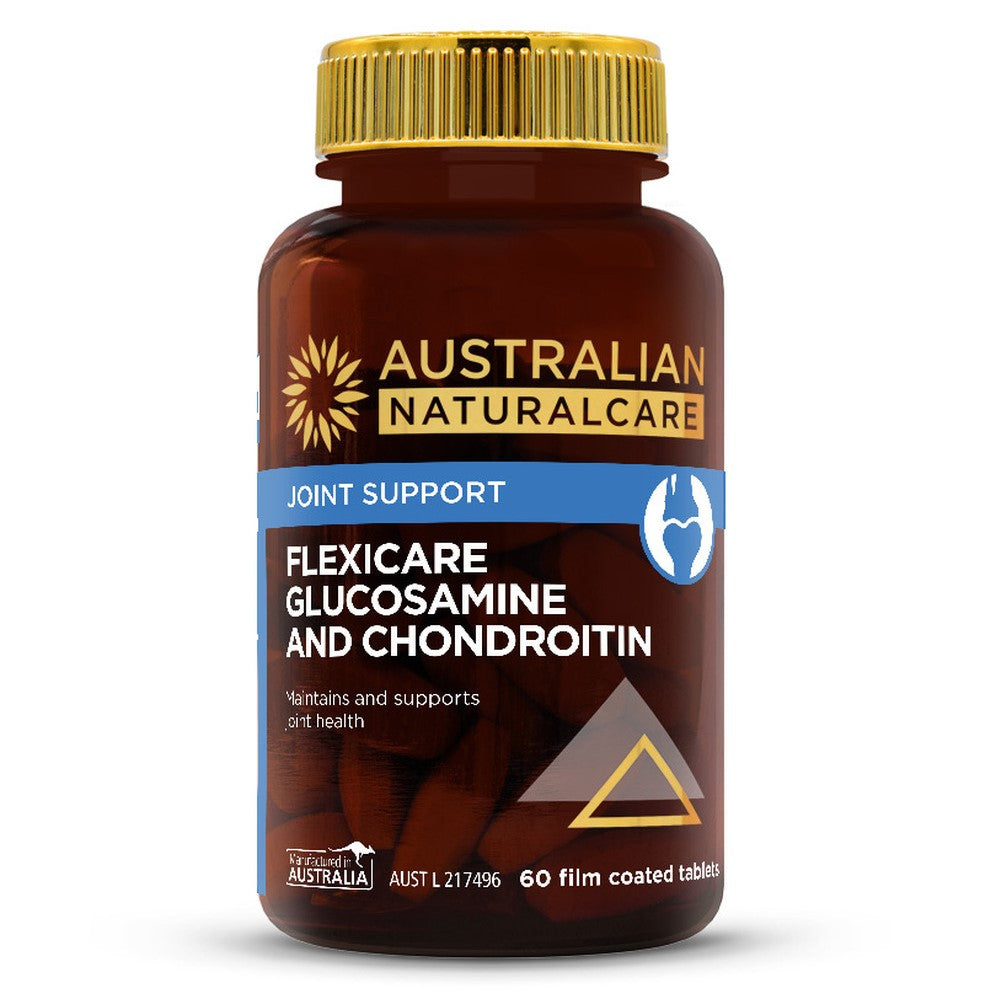 Flexicare Glucosamine and Chondroitin
Regular price
$4199
$41.99
Sale price
$2099
$20.99
Save $21
Low stock - 2 items left

Inventory on the way
Is mild joint pain, inflammation and swelling affecting your day-to-day activities? Are you looking for something to help support the mobility of your joints? Try our Flexicare Glucosamine and Chondroitin!
Glucosamine and chondroitin are two nutrients that are utilised by the body to maintain healthy cartilage.
Australian NaturalCare's Flexicare Glucosamine and Chondroitin helps to provide relief of mild osteoarthritis pain, reduce the associated inflammation and swelling and helps to increase joint mobility. Both glucosamine and chondroitin are used by the body to reduce cartilage loss as well as supporting healthy cartilage growth.
Our comprehensive formula contains:
Glucosamine sulfate – it helps to reduce mild pain, inflammation and swelling associated with mild osteoarthritis and helps maintain the health of the joints
Chondroitin – chondroitin helps attract fluid into the cartilage and is used by the body as a fundamental building block of new cartilage, all while alleviating mild osteoarthritis symptoms such as inflammation and pain
Manganese – manganese is a mineral involved in the synthesis of glycoproteins, which are the building blocks need for cartilage production
Vitamin C – required for the formation of healthy collagen which is a key component of healthy cartilage
Flexicare Glucosamine and Chondroitin is suitable for men and women who play sports, who live an active lifestyle or who would simply like a nutritional supplement to support the health and mobility of their joints.
Each film coated tablet contains: Glucosamine sulfate-potassium chloride complex 1g (1000mg), equiv. to glucosamine sulfate 750mg, Chondroitin sulfate (bovine) 400mg, Ascorbic acid (vitamin C) 50mg, Manganese (from manganese amino acid chelate) 2mg. Contains crustacea, soya bean products, corn.
Take one tablet two to three times daily with meals, or as advised by your healthcare professional. Symptom relief may be expected after four to six weeks.
Liquid error (snippets/image-element line 107): invalid url input