Echinacea 2000 Plus Andrographis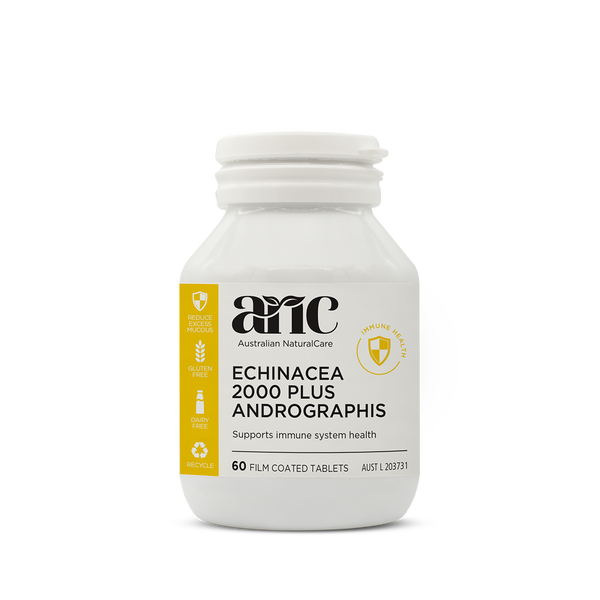 Echinacea 2000 Plus Andrographis
Regular price
$2100
$21.00
Low stock - 3 items left

Inventory on the way
A combination of herbs and nutrients to help alleviate the symptoms of colds and mild upper respiratory tract infections and support healthy immune system function.
Support your immune system with Echinacea 2000 Plus Andrographis, which helps reduce the severity and duration of colds and flu, plus relieve symptoms such as hayfever. Our formula also contains zinc, betacarotene and vitamins C and E to help maintain healthy immune function. We suggest taking Echinacea 2000 Plus Andrographis at the first sign of cold or flu symptoms.
Andrographis has a long history of use in traditional Ayurvedic medicine, where its often taken to help relieve symptoms of colds and other mild upper respiratory tract infections. In a 2017 study that pooled the data from 33 randomised controlled clinical trials involving 7175 participants, Andrographis was found to be more effective than a placebo supplement at relieving symptoms of cough, sore throat and other symptoms of mild respiratory tract infections. It also appeared to decrease both the duration of these symptoms and general recovery time.
Each film coated tablet contains: Dunaliella salina ext. dry conc. stand. 40mg from minimum 75mg fresh cell, stand. to contain betacrotene 3mg, d-alpha-Tocopheryl acid succinate 41.22mg, equiv. to vitamin E 50 IU, Calcium ascorbate dihydrate 623.91mg, equiv. to ascorbic acid (vitamin C) 500mg, Zinc (from zinc oxide) 5mg, Echinacea purpurea (echinacea) ext. dry conc. 166.67mg from 1g (1000mg) dry root, Echinacea purpurea (echinacea) dry juice 22.23mg from 1g (1000mg) dry herb, Andrographis paniculata (andrographis) ext. dry conc. stand. 57.14mg from minimum 799.96mg dry leaf, stand. to contain andrographolide 19.999mg. Contains corn, soya bean products, sugars (including sucrose).
Take one tablet daily, or as advised by your healthcare professional. At the initial onset of colds, take three tablets daily until symptoms subside.
Liquid error (snippets/image-element line 107): invalid url input