Chai Teabag Box 20tb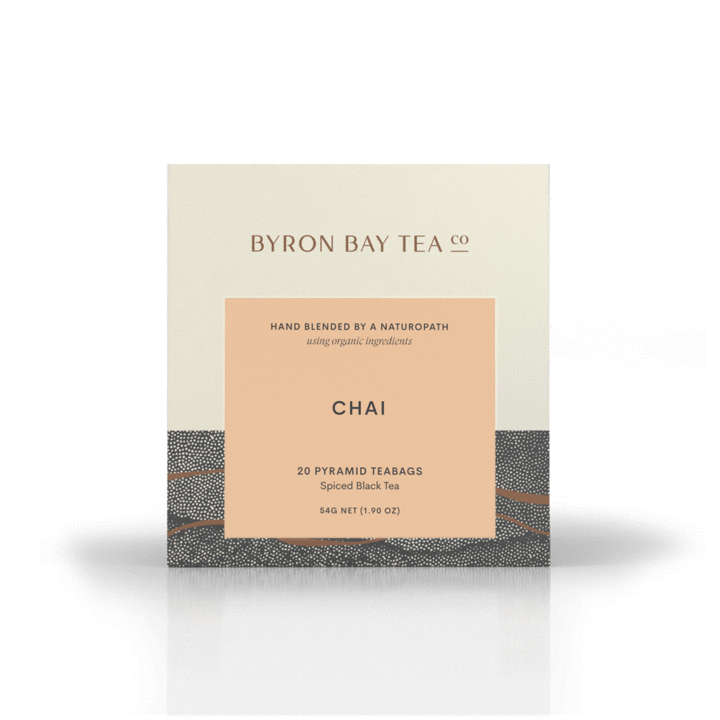 Chai Teabag Box 20tb
Regular price
$2195
$21.95
In stock, ready to ship

Inventory on the way
Enliven the senses with this exquisite chai blend combining Black tea with traditional Indian spices and some native Australian ingredients. Aniseed Myrtle gives the chai an extra zing and Roasted Wattleseed creates a rich and malty flavour. So, sit back, relax and enjoy the spirit of Byron Bay from your teacup.
Over the past several decades, thousands of studies have been published that have identified and quantified many bioactive compounds in the leaves of the tea (Camellia sinensis) plant that are used to make green, black, white and oolong tea.
Some studies have been conducted that reveal the mechanisms of actions by which specific tea compounds may elicit health benefits and show how these diverse elements in tea work synergistically to promote health when consumed as a plant-based beverage. The extensive tea research includes laboratory, animal studies, observational studies of large populations and randomized clinical trials. The benefits of tea are often attributed to the phenolic compounds (some of which act as antioxidants).
Numerous studies with the major catechins in tea, namely epicatechins in green tea and the theaflavins and thearubinigins in black tea, show that these compounds are at least partially digested, create many bioactive metabolites and sometimes pass t hrough the body intact whereby they provide health benefits.
The research suggests that the health benefits of tea are wide ranging and include, but are not limited to the following:
- General nutrition; significant levels of calcium, zinc, Vitamins B1, B2, B6 and folic acid.
- Antioxidant protection; to protect the body against free radical damage.
- Cancer protection
- Weight Loss
- Increasing mental alertness whilst at the same time inducing a sense of calm on the nervous system- contains l-theanine
- Cardiovascular support
Chai is made from a black tea base and a delicate blend of spices that have benefits to improve digestion and to stimulate the circulation to peripheral areas- making it great as a warming cuppa for winter.
This gorgeous, recyclable cardboard box is made from responsible forestry sources with a re-sealable bag inside making it an easy way to store and access your biodegradable pyramid Chai teabags.
Contents- 20 Pyramid Teabags
Black tea, Ginger*, Cardamon, Roasted Wattleseed, Cinnamon*, Licorice*, Aniseed Myrtle (*Certified Organic)
Liquid error (snippets/image-element line 107): invalid url input