Cacao & Shea Butter Hand & Body Lotion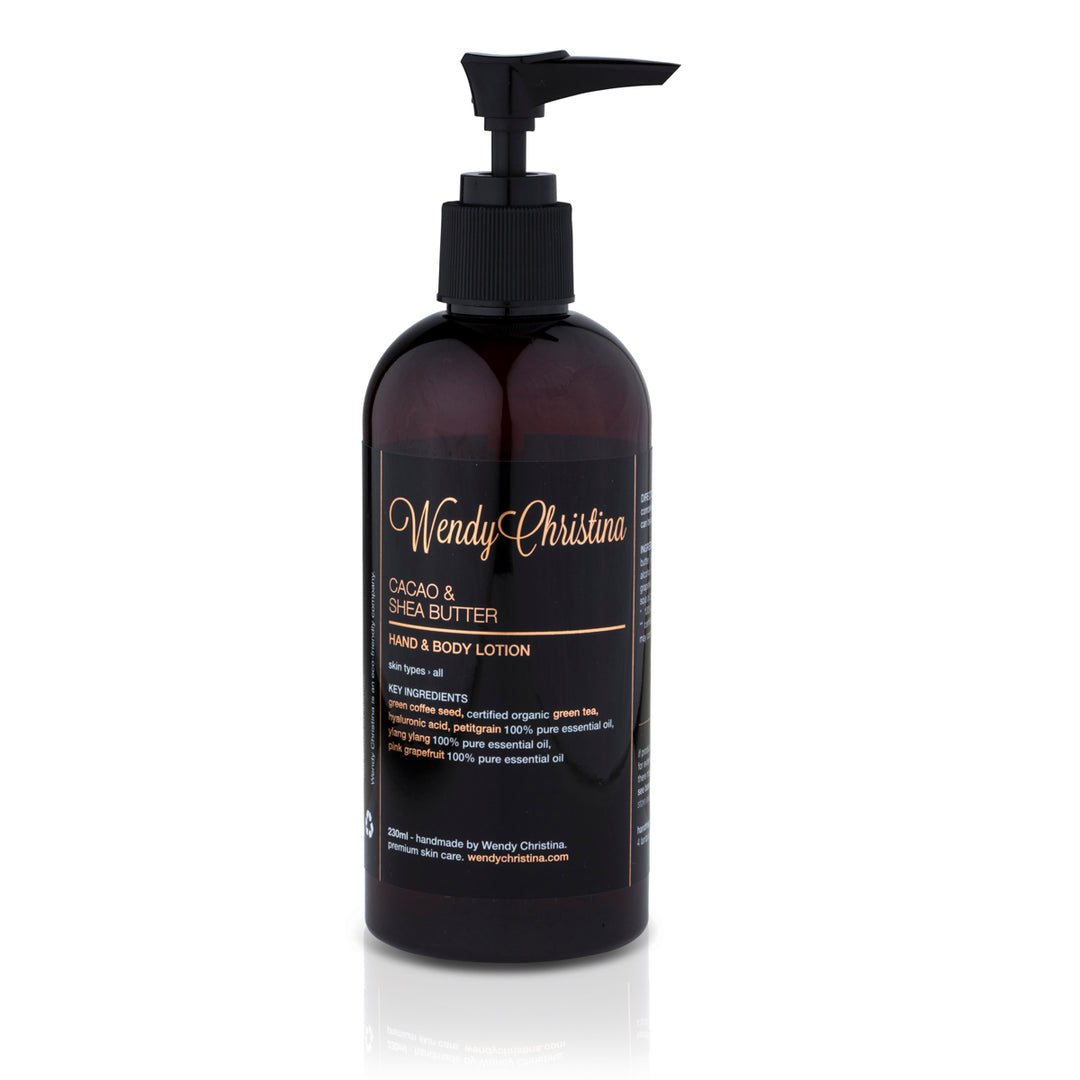 Cacao & Shea Butter Hand & Body Lotion
Regular price
$4000
$40.00
In stock, ready to ship

Inventory on the way
This body lotion is formulated to deeply nourish dry skin. The base is rich in omega fatty acids, purifying antioxidants and cocoa bean which can aid to rebalance lymph flow and may assist in the breakdown of unwanted cellulite.
This lotion includes enriching and nourishing certified organic green tea, castor oil, cocoa butter, lemongrass and pink grapefruit 100% essential oils, along with the powerful anti-oxidant; cocoa bean. The high level of fatty acids in cocoa bean are extremely moisturizing to the skin. The caffeine content also provides stimulation and can have draining properties on fatty cells, which can assist in skin firming. Used in conjunction with Pink Himalayan salt body scrub, this body lotion can be effective for the breakdown of cellulite. The combination of shea, cocoa butter, castor and sweet almond oils are highly nourishing, moisturising and conditioning to the skin.
Suitable for all skin types
Key Ingredients: *Certified Organic
Cocoa Bean Extract: Powerful antioxidant, draining capability on fat cells,
skin tightening
Cocoa Butter: Antioxidant, moisturising, nourishing, conditioning
Shea Butter: Moisturising, wound healing, protection from UV
Cold Pressed Castor Oil: Nourishing, moisturising, creates a protective barrier
Green Tea Extract: High in vitamins C & E. Assists to fortify skin
Green Coffee Seed Extract: Boosts circulation, increases skin metabolism, assists
to break down cellulite, helps to repair skin barrier
Petitgrain Essential Oil: Very calming, antiseptic properties. Effective for oily skin
and the prevention of break-outs
Ylang Ylang Essential Oil: Softening, balances moisture in the skin
Pink Grapefruit Essential Oil: Good skin tonic
Please see bottle. Use in combination with Pink Himalayan salt body scrub for ultimate results.
Liquid error (snippets/image-element line 107): invalid url input